Forum Curmudgeon
Staff member
Since 2002/2003
Joined

Mar 2, 2002
Messages

15,802
Location
I am on the Mark Waldrep mailing list, (Dr. AIX), and I really enjoy reading his emails about HiRez audio and Surround Sound. They come every day and sometimes they interest me, other times they don't. But I got one the other day where he talked about a software program called "MusicScope". It is very cool.
https://www.xivero.com/musicscope/
For those that don't have Audition, or another program that "looks" at audio (not wav file pictures), this program is under $30, and you can download it and try it without buying it.
What I find it great for is examining an audio file to see what shape it's in. With this program, you can easily see an upsampled CD file, a file that is slammed with loudness, phase relationships, and other stuff I don't understand! Here are some screen shots:
THIS IS A CD TRACK FROM A JAMES TAYLOR GOLD (DCC) CD
You can see that it's identified as a 16/44.1 track and fills the frequency spectrum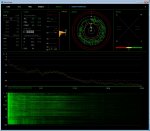 HERE IS THE SAME TRACK, AFTER I UPSAMPLED IT USING r8BrainPro
You can see that it's identified as a 24/96 track, but there's nothing there above the CD frequency spectrum
NOW, HERE IS AN HDTRACKS FILE, FROM "THE UNION" BY ELTON JOHN AND LEON RUSSELL
This album, to me, sounds horrible due to the volume saturation that's on the CD, LP, and HiRez Download
If you look in the circle you will see the Loudness level practically rides the -0- level through the entire song. YUK!
(It's the green line)
NOW, JUST FOR FUN, HERE'S WHAT A DTS CD FILE LOOKS LIKE WHEN ANALYZED
For less than $30, it's a great way to keep an eye on your HiRez Downloads and other music files you may have on your PC. If you put a Quad or 5.1 wav or flac file in it, it will not recognize those files.
But you can always split them if you need to. I don't have any Pono files to check, but if you wanted to verify that your Pono files, sold as 24/96 are in fact NOT upsampled, this is the program to do that.
I found interesting results looking at some files that I sourced from LP and recorded into my PC at 24/96. Some of the older LPS had very little above 20kHz, while newer albums had info up there. I would guess that back in the 60's and 70's, they may have limited the frequency of audio put to LP. Just a guess, I have no clue.